Carova Girls
Carova I Have A Dream of Boating On The Cooper  CGC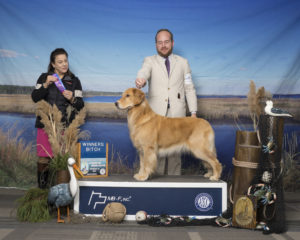 November 2019, Cooper goes WB in Md with handler Ryan Dillman. Thank you Ryan!!
Cooper is out of our GCH Harborview Under Construction OS x  Carova's Rolled Into Steadmors Helping Hands RN CGC . Cooper made the first cut out of 32 competing in Am Bred Class at the 2017 Golden Retriever Club National Specialty.  She looked beautiful with handler Kristin Lyons.
Victory's Queen of Hearts @ Dunkeld & Carova, "Titania"
Titania is the offspring of AM GCH Carova G Handiwork of Oberon CD RN DS  x  AM GCHB Victory's My Wave Or The High Wave CGC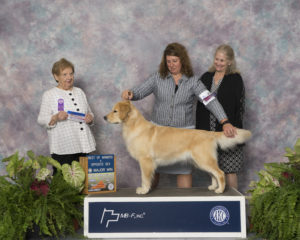 June 23, 2019 Titania goes WB BOW OS for a three point major in Richmond VA !
Kristin Lyons  you made her shine !!!
Ryan Dillman had Titania winning three out of a five day cluster held in Md  October/ November 2019 .  During the cluster , she went WB , BOS or  BOW on any given day. It was quite exciting to watch her shine.
Titania Chesapeake show at 18 months with handler Kasey Von Engle 2018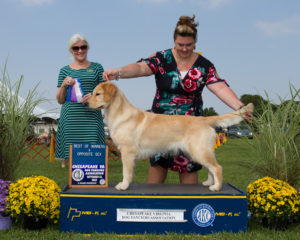 This sweet girl is out of  GCH Carova's Handiwork of Oberon  x  GCH Victory's My Wave Or The High Wave Diva litter.  She is the girl that saved my heart after my Gabby litter passed away. I will forever be thankful to Sharon and David Kitchens of Dunkeld Goldens , Nancy Sherick of Firehouse Goldens, Michelle Moore Vasquez with Victory Goldens and our entire Carova community for making this special pup a part of our home.  As a breeder, my job is to do the best I can to make families happy. I never imagined in a million years,that these families ( my families) would  be the ones to bring me joy and mend my broken heart after my litter was lost. This was our first Oberon offspring
On 2/16/19 Titania became an International Champion !! 
In 2016 Titania did a puppy match at Chesapeake Va and earned Best Puppy. One year later, Titania went WB at the Chesapeake Show.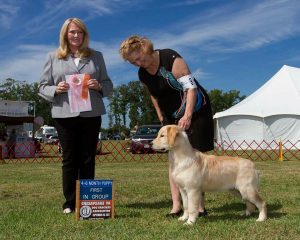 OUR FUTURE ( UNDER CONSTRUCTION)
CAROVA & RIVER ROCK AQUABATIC CHLOE
Chloe is owned and loved by the entire Broadbent Family from VA. They too came to a show to "watch" and cheer on some Carova babies and within an hour looked at another family and said," I think I want to do this. It is not what I thought it was at all. The dogs are having a great time and the atmosphere is laid back". Spencer went home and chatted with the family that all agreed, we will have a show puppy if she grows out nicely. So excited for adventures ahead.