Carova Boys
  GCH Carova  I Have A Dream of Heavenly Gifts THDN CGC  "Theo" 
For pedigree and health clearances to date:  http://www.k9data.com/pedigree.asp?ID=728554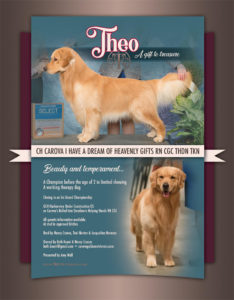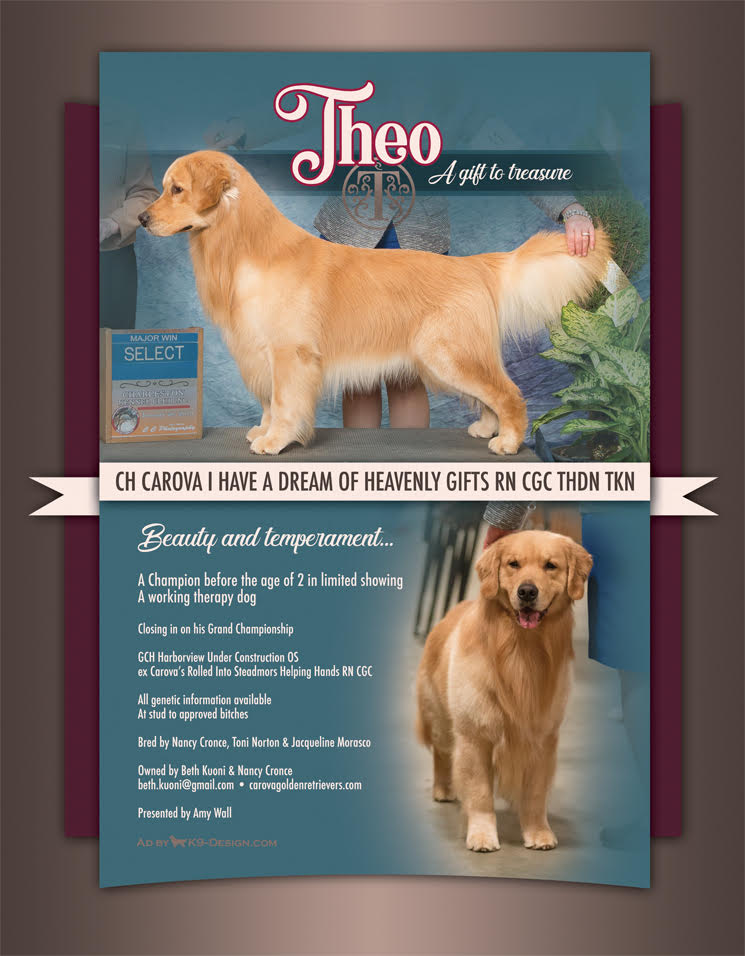 Theo was the pairing of GCH Harborview Under Construction OS x Carova's Rolled Into Steadmors Helping Hands RN CGC .  Theo was placed with Beth for the purpose of doing therapy work and obedience venues. Theo developed into such an outstanding boy, that Beth was kind enough to give dog shows a try . Theo finished his GCH with limited showing . I am pleased to co own this fabulous boy  with Beth.   Stud inquires welcome. 
Update:  July 9, 2022  We are pleased to announce that Theo became a daddy ! 4 boys and 4 girls. Thank you Michelle with Amore  Doro Goldens for allowing Theo to be a part of your breeding program. All puppies are spoken for.
Carova's Magic Molly's Dreams Come True with Albus    
For Pedigree and health clearances to date :  https://www.k9data.com/pedigree.asp?ID=1041964
Albus is out of our Stormy Point's Center Of The West ( 12 AKC points / 1 Major)  x I Have A Dream I'm Magic Molly Carpenter litter ( 6 AKC points/ 1 Major).    Albus is growing  up !!!! Albus is owned  by an amazing couple, Marilee and Jason Glover.  They have been a very big part of our Carova breeding program and own Molly. We are so lucky to have such an experienced show home for this amazing boy. Now that Covid  is behind us, we look forward to watching him shine in  a variety of venues. Albus recently finished his UKC championship and is working on his grand championship. Next up is therapy dog certification and getting back out for more AKC shows.
U-CH Carova's Walk in the Park  CGCA 
Parker: Pictures soon 
We are so excited to announce that Parker finished his UKC Championship in one weekned, and under the age of 12 months old.  He is now showing in the AKC and his owners are having fun learning about dog shows.
Retired Past Champions
GCH Carova's Handiwork of Oberon CD RN DS 
When the evaluations were done by Pat Hastings, she suggested I have a good show home for him. I explained he will go to a Performance  home as they should have my most well structured.  She replied, "Will they show him? Are they experienced ?" I told her "No show experience, so all I can do is ask ."  They embraced the sport of conformation and enjoyed a very rare ride not experienced by most newbies.  Oberon, with limited showing finished early and earned his Grand Championship Title even faster.  Oberon was my first bred Champion and he was a boy!!!! Always thought my first champion would be a girl. It is  a pleasure to co own this fantastic boy with great folks, Sharon and David Kitchens DVM.
CH I Have A Dream Of Calm Seas DS TKI CGCA "Tucker" 
Tucker shares his home with Dan and Trish Hopkins in VA. Its an honor to co own this wonderful boy and to be his breeder.  Tucker finished his championship quickly. Instead of continuing on with his GCH  we all felt that he would be happier in more active venues. He took to the dock for his dock jumping title, did more obedience classes and earned his trick dog title. He is curently playing in the agility ring and having a blast. Last year he got a new Carova brother named," Moose".
Under construction