Carova Stud Dogs
U-CH Carova's Walk in the Park  CGCU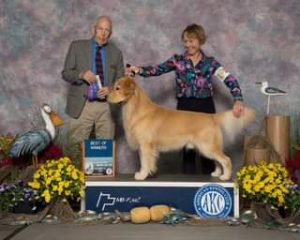 We are so excited to announce that Parker finished his UKC Championship in one weekned, and under the age of 12 months old.  He is now showing in the AKC and his owners are having fun learning about dog shows.
Update: Parker has 8 AKC points to date.  He took a show off to become a daddy .  Please visit the planned litter page for more details on this  litter due Aug, 23, 2023.  Parker is out of our Brody x Titania litter.
GCH Carova  I Have A Dream of Heavenly Gifts THDN CGC  "Theo" 
For pedigree and health clearances to date:  http://www.k9data.com/pedigree.asp?ID=728554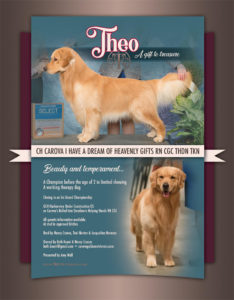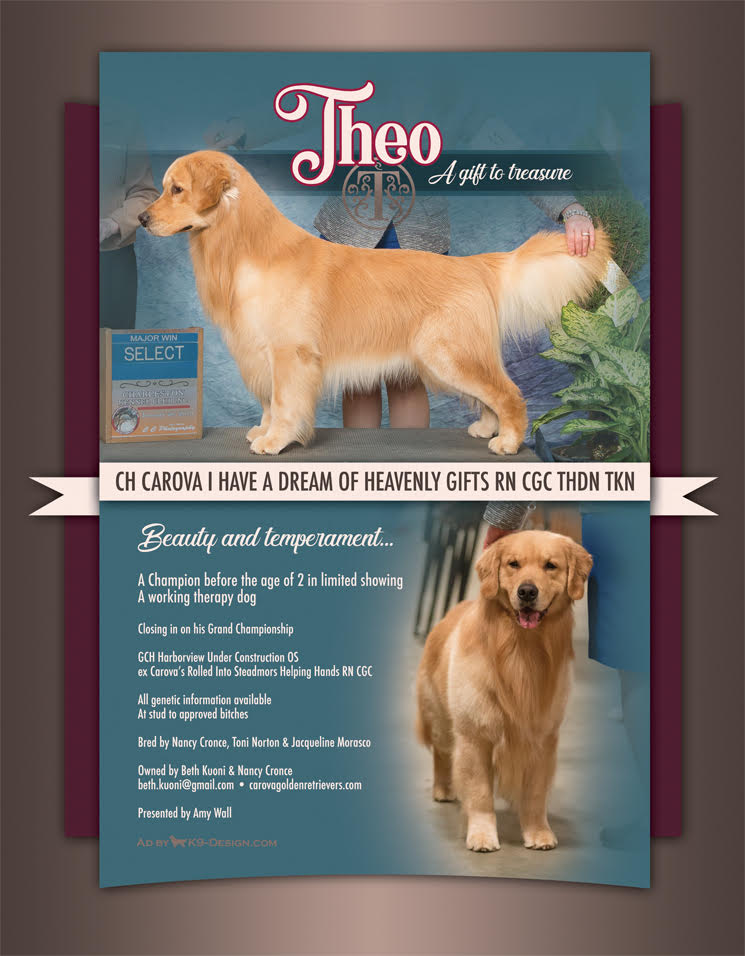 Theo was the pairing of GCH Harborview Under Construction OS x Carova's Rolled Into Steadmors Helping Hands RN CGC .  Theo was placed with Beth for the purpose of doing therapy work and obedience venues. Theo developed into such an outstanding boy, that Beth was kind enough to give dog shows a try . Theo finished his GCH with limited showing . I am pleased to co own this fabulous boy  with Beth.   Stud inquires welcome. 
Update:  July 9, 2022  We are pleased to announce that Theo became a daddy ! 4 boys and 4 girls. 
Carova's Magic Molly's Dreams Come True with Albus    
For Pedigree and health clearances to date :  https://www.k9data.com/pedigree.asp?ID=1041964
Albus is out of our Stormy Point's Center Of The West ( 12 AKC points / 1 Major)  x I Have A Dream I'm Magic Molly Carpenter litter ( 6 AKC points/ 1 Major).    Albus is growing  up !!!! Albus is owned  by an amazing couple, Marilee and Jason Glover.  They have been a very big part of our Carova breeding program and own Molly. We are so lucky to have such an experienced show home for this amazing boy. Now that Covid  is behind us, we look forward to watching him shine in  a variety of venues. Albus recently finished his UKC championship and is working on his grand championship. Next up is therapy dog certification and getting back out for more AKC shows.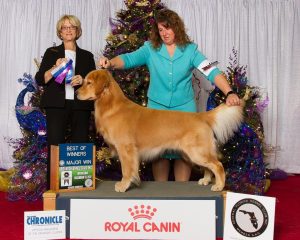 CH Carova I Have A Dream Of Calm Seas DS TKI CGCA   " Tucker"
Tucker is co owned with a fanatastic family that was new to showing, Dan and Trish Hopkins. Tucker was from our Detour x  Gabby litter that produced five Champions ( four AKC and One UKC)  Tucker could have earned his GCH quickly , however , we felt he would enjoy other venues such as Dock Dogs and agility.  He now has a  new Carova brother, "Moose"  that keeps him on his toes.