Carova Boys
 CH Carova  I Have A Dream of Heavenly Gifts THDN CGC  "Theo" 
Theo was the pairing of GCH Harborview Under Construction OS x Carova's Rolled Into Steadmors Helping Hands RN CGC .  Theo was placed with Beth for the purpose of doing therapy work and obedience venues. Theo developed into such an outstanding boy, that Beth was kind enough to give dog shows a try. I am so glad that she did !! Theo has been shown on a very limited basis and obtained his Championship before the age of two.  Theo is an easy dog to train and live with.  Theo is working  on his GCH Title
Stud inquires welcome. 
 CH Carova I Have A Dream of Calm Seas "Tucker"  TKI CGCA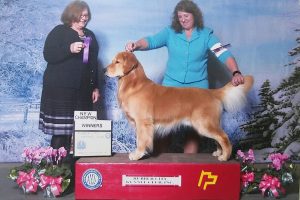 Tucker  was the pairing of GCH Harborview OS x Carova's Rolled Into Steadmors Helping Hands RN CGC . They are new to showing and have enjoyed the social aspect of dog shows. Dan has taken handling classes and improved so much that he won Best in Show at a Fun Match in Virginia Beach , VA. Tucker was  shown on a very limited basis and finished quickly. Dan is looking forward to working  Dock Dogs with him when he turns two years old.  Stud dog package available on request.
CH Carova Olympian Gymnast Chris Brooks  " Dakota"
( NEWS FLASH !!!!!! NEW CHAMPION   PHOTO SOON
Dakota is a repeat breeding in 2017 of  GCH Harborview Under Construction OS   x Carova's Rolled Into Steadmors Helping Hands RN CGC.
01/27/2018 NEWS!  Little Junior Handler Hope Matkins grew up and had her first Professional Handling gig today. She came out of the gates a blazing with Carova Olympian Gymnast Chris Brooks, "Dakota".  Thank you Hope for showing him so beautifully . Dakota picked up WD and BOW for two points out of the 12-18 month puppy class. We look forward to watching Dakota shine this year.
Carova Offspring and Dogs bred by a Carova Boy . 
VICTORY'S KING OF HEARTS ON THE THRONE AT MAJESTY CGC TKI 
INTERNATIONAL CHAMPION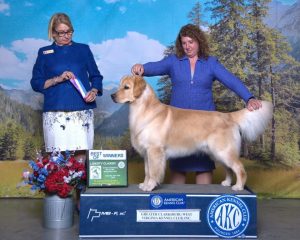 GCH Carova's Handiwork of Oberon CD RN DS DJ  x  GCH Victory's My Wave of the Highway  had a beautiful family. This is the one and only , limited edition litter from  my sweet Oberon.
This is Ruger and he is owned by Howard and Teresa Joyner in VA.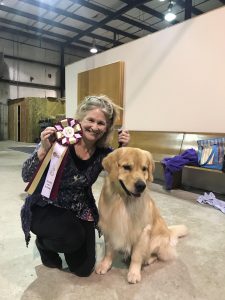 02/17/19 Ruger went Reserve Best in Show at the International Show held in King Port NC.  It was a joy to show the son of my sweet Oberon and receive this placement. A great day. A wonderful memory to hold in my heart.  Official photo soon.
OUR FUTURE !  
CAROVA AND RIVER ROCK AQUABATIC KOA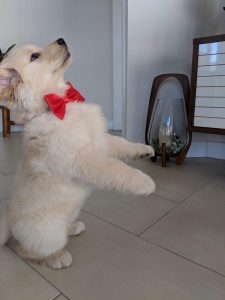 Koa is owned and loved by Vikrant &  Priyanka Potnis-Sawant in  VA.
They came to a dog show to "watch" and cheer on some Carova Goldens at a show in Richmond.  I was pleasantly surprised within an hour hearing
, " Nancy, we want to do this!"  We look forward to many adventures with this baby and wonderful family.