Carova Golden  Retrievers
Phone 757-202-9393
Email: carovagoldenretrievers@gmail.com
Carova Goldens are raised in our home and provided with mental stimulation and physically challenging activities that develop body and mind.
Great beginnings with me, and continuing education with you, equals unlimited possibilities for the future.
 Carova Dogs As Conformation Dogs
Carova Dogs As Service Dogs
---
Carova Dogs As Therapy Dogs
---
Carova Dogs Take to Dock Jumping.
---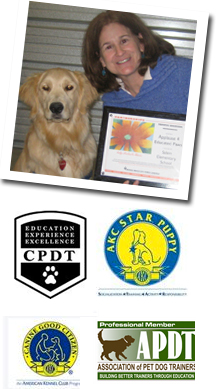 Meet Professional Dog Trainer and Breeder, Nancy Cronce. 
Nancy Cronce, CPDT-KA, is the founder of Carova Golden Retrievers. She prepared for six years for her first litter, so that when the time was right, she would have the skills needed to whelp a litter and get each pup on the right road for the future.
As a professional dog trainer, Nancy knows how important the breeder's role is in helping puppies get through developmental stages and off on the right foot.